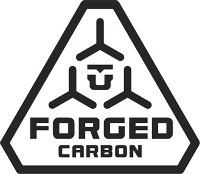 Strength-2-Weight
Forged Carbon Production
Forged Carbon has always been produced inhouse, because during it's inception, there were no outside vendors capable of offering help. So Union purchased a used forging press, and by trial and error, figured out how to apply it to binding parts. That was years ago, and with recent investment into our all new forging press (specifically built for Forged Carbon production), we are exicted to show the world the next generation of this futuristic material.
STRESS TEST CHECK
50x
PRODUCTION FACT 01
500,000 TURBOSTRATIC
FIBERS PER SQUARE IN.
PRODUCTION FACT 02
MOULDED UNDER
EXTREMELY HIGH PRESSURE
AND HEAT.
PRODUCTION FACT 03
UNMATCHED
STRENGTH-TO-WEIGHT
RATIO.
Production Notes
Behind the Tech
Forged Carbon is a technology developed specifically for engineering complex three-dimensional geometries that need to resist stresses of variable geometries that need to resist stresses of variabletype, direction, and magnitude. When we started this project, I was shocked bythe intensity of the loads to which professional riders like Travis and Gigi subject these bindings. - PAOLO FERABOLI
Duraflex CB Base
Carbon Injected Stage 4 Base is incredibly stiffand distributes 100% energy transmission from edge-to-edge.
Forged Carbon Gas Pedal
Forged Carbon gas pedal provides instant edge-to-edge response for charging the most technical lines and powering through hard carves. Extremely lightweight and only available from Union Binding Company.
Forged Carbon Highback
Union's stiffest and most responsive highback available. Forged Carbon highback is trusted by the best boardercross and banked slalom racers from around the world.
COMPARISON: PLASTIC VS. FORGED CARBON LOAD CARRYING
CAPACITY (IN BENDING PER UNIT MASS)
2x
HIGHER STRENGTH TO WEIGHT
WHEN COMPARED TO INJECTED
PLASTIC
WEIGHT: PLASTIC VS. FORGED CARBON VS. AIR LOAD CARRYING
CAPACITY (IN BENDING PER UNIT MASS)
40%
LIGHTER AT MATCHING
WEIGHTS COMPARED TO
PLASTIC
BUY NOW